Job Details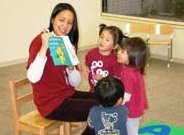 Job No, 1266
We are looking for a part time teacher who can work flexibly.
Short time working is ok! (ex: 10:00-14:00,17:00-19:00)
Foreign teacher leads classes following our curriculum.
We are planning to hire as a full time teacher depends on your performance .

If you are interested in our position and need more infomation, please feel free to contact us!
Location
Area
Chiba
Closest Station(s)
Minami nagareyama stn.
Train Line(s)
Musashino line/ Tsukuba express line
Conditions
Language to Teach
English

Contract Type
Part

Salary
1,700 - 2,000 yen /hour
Transportation Fee
Paid (Partially Paid up to 10,000 yen/month yen)

Social Insurance
No

Contract Term
Accommodation
Working Days & Hours
Basically Monday to Saturday From 9:00 to 19:00 ( 8hours/day, depends on school schedule)
Start Date
A.S.A.P
Probation Period
3-month probation period(1,500yen/hour)
Training
Yes (paid)

Holiday
Sunday,National holiday,depends on school schedule
Paid Holiday
Class Infomation
Student Age
Infants(0-2 years old)
Toddlers(3-5 years old)
Children / Preteen(6-12 years old)

Job Description
Preschool,Kinder,Elementary Conversation class and Mommy and MeForeign teacher leads classes with Japanese teacher.
School info
School Type
ESL School
International School
Private

Year Founded
2012
Number of Teachers
8
Requirements
Educational Background
Graduated Undergraduate School

Experience
Teaching Certificate
Japanese Ability
Not Required

Visa
Student
Spouse of Japanese National
Child of Japanese National & Japanese
Permanent Resident
Working

Visa Sponsorship
Yes

Driver's License
(valid in Japan)
Not Required

Interview
Interview Method
Interview in Person

Transportation Fee Paid
No

Working Hours
(required indicated in red)
| | 9- | 10- | 11- | 12- | 13- | 14- | 15- | 16- | 17- | 18- | 19- | 20- | 21- |
| --- | --- | --- | --- | --- | --- | --- | --- | --- | --- | --- | --- | --- | --- |
| Mon | | | | | | | | | | | | | |
| Tue | | | | | | | | | | | | | |
| Wed | | | | | | | | | | | | | |
| Thu | | | | | | | | | | | | | |
| Fri | | | | | | | | | | | | | |
| Sat | | | | | | | | | | | | | |
| Sun | | | | | | | | | | | | | |
Map