Job Details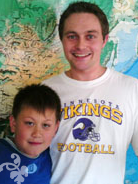 Job No, 1348
We employ an English only environment. Although our students study towards JET and Eiken examinations they also enjoy a wide variety of themes and activities not solely academic. We focus on English for communication and the students' growth of personal and social skills.
Our school is located conveniently near Ookubo station in Akashi.



Working hours: Monday – Thursday 9:00-18:00 (Tuesday 9:00-17:00) Friday 9:00-13:00



Daily Schedule: 9:25-13:00 Morning Classes, 13:00-14:00 Lunch Break, 14:00-15:00 class planning/marking etc. time allocation, 15:00-18:00 Afternoon Classes.



Salary: 250,000 plus travel expenses, salary negotiable dependent on experience. 2 weeks winter and summer holidays plus all national holidays.
Location
Area
Hyogo
Closest Station(s)
Ookubo
Train Line(s)
JR
Conditions
Language to Teach
English

Contract Type
Full

Salary
250,000 yen /month
Transportation Fee
Paid (Partially Paid up to 15000yen/month yen)

Social Insurance
No

Contract Term
3 year
Accommodation
Working Days & Hours
Monday to Friday 9:00-18:00
Start Date
Soon as possible
Probation Period
1 month
Training
Yes (paid)

Holiday
Satuday ,Sunday
Paid Holiday
14days in summer and winter
Class Infomation
Student Age
Toddlers(3-5 years old)
Children / Preteen(6-12 years old)

Job Description
We employ an English only environment. Preschool and After School programs
School info
School Type
International School
Private

Year Founded
2003
Number of Teachers
4
Requirements
Educational Background
Graduated College

Experience
More than 1 year/years
Teaching Certificate
Not Required

Japanese Ability
Not Required

Visa
Working Holiday
Spouse of Japanese National
Child of Japanese National & Japanese
Permanent Resident
Working
Other

Visa Sponsorship
Yes

Driver's License
(valid in Japan)
Not Required

Interview
Interview Method
Interview in Person

Transportation Fee Paid
No

Working Hours
(required indicated in red)
| | 9- | 10- | 11- | 12- | 13- | 14- | 15- | 16- | 17- | 18- | 19- | 20- | 21- |
| --- | --- | --- | --- | --- | --- | --- | --- | --- | --- | --- | --- | --- | --- |
| Mon | | | | | | | | | | | | | |
| Tue | | | | | | | | | | | | | |
| Wed | | | | | | | | | | | | | |
| Thu | | | | | | | | | | | | | |
| Fri | | | | | | | | | | | | | |
| Sat | | | | | | | | | | | | | |
| Sun | | | | | | | | | | | | | |
Map