Job Details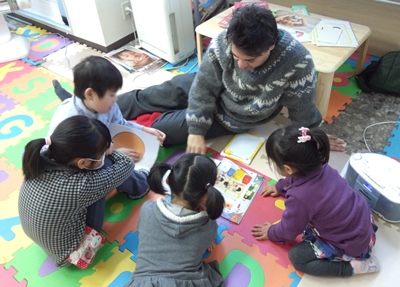 Job No, 1923
We are looking for a part-time native English teacher who is immediately possible or is able to start from mid-September to work on Saturday.

A homelike atmosphere

Types of lessons
【for children】group lessons
Provide the fun and energetic lessons

【for adults】 group lessons and private lessons
・Daily conversation ・Business conversation

Requirements;
・an English native teacher or a teacher who has a native level of English pronunciation
・have passion for teaching children and adults
・have experiences teaching children and adults in group lessons
・have a valid visa
・can commit for a long-term contract

Start to teach: immediately or late September.

Location: 3min. from Kameido station on foot

Working days: Saturdays

Working hours:
【Saturday】8-10 hours/day

Number of lessons:
【Saturday】7ー9 lessons/day

Payment amount:
【Saturday】¥17500 ー¥22500/day +extra+transportation expenses(up to ¥1000/day

If you are interested in this position, please send us your resume and picture for further more information.

We are looking forward to hearing from you.
Thank you for your consideration.
Location
Area
Tokyo
Closest Station(s)
Kameido stn. Kinshicho stn.
Train Line(s)
JR Sobu line, Hannzoumon line
Conditions
Language to Teach
English

Contract Type
Part

Salary
17,500 ー 22,500 / day + extra (Saturdays)
Transportation Fee
Paid (Partially Paid up to 1,000 (per day) yen)

Social Insurance
No

Contract Term
1 year or more
Accommodation
Working Days & Hours
[Saturdays] 7ー9 lessons / day, 8 - 10 hours / day
Start Date
from mid-September 2019
Probation Period
Training
Yes (paid)

Holiday
Paid Holiday
Class Infomation
Student Age
Infants(0-2 years old)
Toddlers(3-5 years old)
Children / Preteen(6-12 years old)
Teenagers(10-19 years old)
Adults(20- years old)

Job Description
Home-like school, group lessons for children and group and private lessons for adults
School info
School Type
ESL School

Year Founded
2012
Number of Teachers
Requirements
Educational Background
Graduated College

Experience
More than 1 year/years
Teaching Certificate
Not Required

Japanese Ability
Beginner

Visa
Working Holiday
Spouse of Japanese National
Child of Japanese National & Japanese
Permanent Resident
Working
Other

Visa Sponsorship
No

Driver's License
(valid in Japan)
Not Required

Interview
Interview Method
Interview in Person

Transportation Fee Paid
No

Working Hours
(required indicated in red)
| | 9- | 10- | 11- | 12- | 13- | 14- | 15- | 16- | 17- | 18- | 19- | 20- | 21- |
| --- | --- | --- | --- | --- | --- | --- | --- | --- | --- | --- | --- | --- | --- |
| Mon | | | | | | | | | | | | | |
| Tue | | | | | | | | | | | | | |
| Wed | | | | | | | | | | | | | |
| Thu | | | | | | | | | | | | | |
| Fri | | | | | | | | | | | | | |
| Sat | | | | | | | | | | | | | |
| Sun | | | | | | | | | | | | | |
Map