Job Details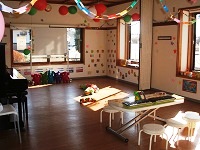 Job No, 2136
We're in need of an enthusiastic and lively individual to fill in a full time position at a fun, ever expanding private children's conversation school.
Successful applicants are not expected to originate from a native English speaking country, but are required to speak and teach English on a native level.

Applicants do not need prior experience in teaching English or with kids however it is desired.

The job role includes working either alone or paired with a second teacher for classes of up to 5 children. Student ages vary between the ages of 2-16 years. The successful applicant may also have the chance to teach one-to-one private lessons. Back office jobs (materials creation, cleaning, and other events preparation) and lesson preparation are included.

Hours vary between 1pm to 9pm with some morning classes.

Shifts are five to six days a week with Saturday availability as a must. Hours per week will depend on the applicant's flexibility and also on the expansive nature of our school, meaning new classes and hours may be available in the future.

The school is based in Moriya, just outside of Chiba and Saitama, and a 40-minute train ride from central Tokyo. Fully furnished accommodation very close to the school and relocation assistance are available.

There will be a 3-month trial period to ease the successful applicant into our schools relaxed method of teaching.

This is a perfect opportunity for anyone seeking to begin their career as a professional English teacher, or those who are in search of a position in a fun atmosphere alongside staff who truly value new members wishing to make a difference to a child's future. If this sounds like you, then please contact us at your earliest convenience. Thank you.
Location
Area
Ibaraki
Closest Station(s)
Moriya
Train Line(s)
Tsukuba Express
Conditions
Language to Teach
Contract Type
Full

Salary
¥150,000 - ¥300,000/Monthly Negotiable and depends on performance
Transportation Fee
Social Insurance
No

Contract Term
5years
Accommodation
Furnished Apartment , Rent 30,000yen including utility and wi-fi
Working Days & Hours
Monday to Saturday
Start Date
A.S.A.P.
Probation Period
Training
Yes (paid)

Holiday
Sundays, some Saturdays and School holidays
Paid Holiday
Class Infomation
Student Age
Toddlers(3-5 years old)
Children / Preteen(6-12 years old)
Teenagers(10-19 years old)
Adults(20- years old)

Job Description
English conversation school
School info
School Type
ESL School

Year Founded
Number of Teachers
Requirements
Educational Background
Graduated Undergraduate School

Experience
Teaching Certificate
Not Required

Japanese Ability
Not Required

Visa
Tourist
Student
Working Holiday
Spouse of Japanese National
Child of Japanese National & Japanese
Permanent Resident
Working
Other

Visa Sponsorship
Yes

Driver's License
(valid in Japan)
Not Required

Interview
Interview Method
Skype Interview

Transportation Fee Paid
Yes

Working Hours
(required indicated in red)
| | 9- | 10- | 11- | 12- | 13- | 14- | 15- | 16- | 17- | 18- | 19- | 20- | 21- |
| --- | --- | --- | --- | --- | --- | --- | --- | --- | --- | --- | --- | --- | --- |
| Mon | | | | | | | | | | | | | |
| Tue | | | | | | | | | | | | | |
| Wed | | | | | | | | | | | | | |
| Thu | | | | | | | | | | | | | |
| Fri | | | | | | | | | | | | | |
| Sat | | | | | | | | | | | | | |
| Sun | | | | | | | | | | | | | |
Map