Job Details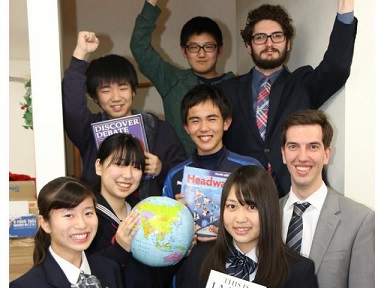 Job No, 2178
We are looking for bright, outgoing individuals, who are native English speakers.
Honjo-city has great access to Tokyo which is about 50min.away by bullet train, about 80min. JR Shinjuku to Honjo.
At our school, we teach English conversation and adult range from 3 to 70! This is a great chance to really become part of their lives, get to know your students and become part of the community.

Online Interview. We look forward to meeting with you.
Location
Area
Saitama
Closest Station(s)
JR Honjo stn HonjoWaseda stn
Train Line(s)
Takasaki line
Conditions
Language to Teach
English

Contract Type
Full

Salary
260,000 yen/month+Bonus
Transportation Fee
Social Insurance
Yes

Contract Term
Negotiable
Accommodation
Furnished Apartment,1LDK(45.36sq.meters), Rent 45,000yen, Near the station and the office. We provide subsidized accommodation at our Company apartment. This is a spacious and bright apartment.
Working Days & Hours
Monday to Friday 32.5 hours/week. 6.5 working hours/day, weekday 2pm-8:30pm. Work hours do include lesson planning. So you do not have to worry about overtime.
Start Date
September 2021
Probation Period
Training
Yes (paid)

Holiday
Saturday, Sunday, National holiday
Paid Holiday
Spring, Summer, Autumn, Winter holidays, Golden week
Class Infomation
Student Age
Toddlers(3-5 years old)
Children / Preteen(6-12 years old)
Teenagers(10-19 years old)
Adults(20- years old)

Job Description
Working at ESL school Teach English to kids and adults(student age : 3-70 years old) Private lesson and Group lesson up to 4 students per class.
School info
School Type
ESL School

Year Founded
1989
Number of Teachers
12
Requirements
Educational Background
Graduated Undergraduate School

Experience
Teaching Certificate
Not Required

Japanese Ability
Not Required

Visa
Student
Working Holiday
Working

Visa Sponsorship
Yes

Driver's License
(valid in Japan)
Not Required

Interview
Interview Method
Interview in Person

Transportation Fee Paid
Yes

Working Hours
(required indicated in red)
| | 9- | 10- | 11- | 12- | 13- | 14- | 15- | 16- | 17- | 18- | 19- | 20- | 21- |
| --- | --- | --- | --- | --- | --- | --- | --- | --- | --- | --- | --- | --- | --- |
| Mon | | | | | | | | | | | | | |
| Tue | | | | | | | | | | | | | |
| Wed | | | | | | | | | | | | | |
| Thu | | | | | | | | | | | | | |
| Fri | | | | | | | | | | | | | |
| Sat | | | | | | | | | | | | | |
| Sun | | | | | | | | | | | | | |
Map