Job Details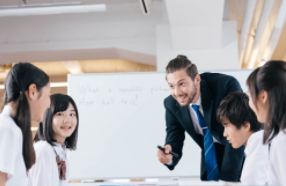 Job No, 2195
Alpros is presently seeking a reliable and energetic English teacher for short course in Omiya starting at the end of April. Reading and speaking Japanese, even if just a little, would be an advantage. The students are low-level and would need a lot of support and encouragement.

Teachers are expected to teach engaging lessons and be creative in class. Materials are provided.

After the course is complete, the teacher would likely be offered more opportunities in the future.

Transportation is paid.
Location
Area
Saitama
Closest Station(s)
Oomiya
Train Line(s)
Saikyou line, Shounan Shinjuku line, Takasaki line
Conditions
Language to Teach
English

Contract Type
Part

Salary
18,000 yen/day
Transportation Fee
Paid (Partially Paid up to Fully paid yen)

Social Insurance
No

Contract Term
3-4 months
Accommodation
None
Working Days & Hours
9:20-12:10, 13:10-16:00. Wednesdays. 6 hours/day.
Start Date
April 28th, 2021
Probation Period
None
Training
Holiday
Paid Holiday
None
Class Infomation
Student Age
Teenagers(10-19 years old)
Adults(20- years old)

Job Description
Technical college. Teaching English for lower level students.
School info
School Type
ESL School
ALT
Coporate Lessons

Year Founded
2009
Number of Teachers
40
Requirements
Educational Background
Graduated High School

Experience
More than 1 year/years
Teaching Certificate
Not Required

Japanese Ability
Beginner

Visa
Spouse of Japanese National
Child of Japanese National & Japanese
Permanent Resident
Working

Visa Sponsorship
No

Driver's License
(valid in Japan)
Not Required

Interview
Interview Method
Interview in Person

Transportation Fee Paid
No

Working Hours
(required indicated in red)
| | 9- | 10- | 11- | 12- | 13- | 14- | 15- | 16- | 17- | 18- | 19- | 20- | 21- |
| --- | --- | --- | --- | --- | --- | --- | --- | --- | --- | --- | --- | --- | --- |
| Mon | | | | | | | | | | | | | |
| Tue | | | | | | | | | | | | | |
| Wed | | | | | | | | | | | | | |
| Thu | | | | | | | | | | | | | |
| Fri | | | | | | | | | | | | | |
| Sat | | | | | | | | | | | | | |
| Sun | | | | | | | | | | | | | |
Map