Job Details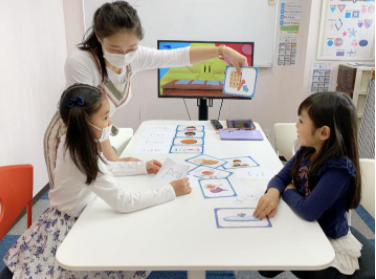 Job No, 2245
Do you enjoy working with children?
Are you looking for a meaningful position where you could put your language skills to use and make a difference?

WinBe Sekimachi Shool might be the ideal place for you!

【Role & Responsiblities】
・Engaging children using English in a variety of settings
・Creating exciting and fun, purposeful lesson plans, leading activities/classes and providing support to other staff when they lead activities/classes
・Working as a team and communicating to ensure the best possible experience for children, each and every day
・Supporting school management for smooth operation of the school and facilities
・Meeting and greeting fellow staff, sharing goals for the day, providing support and advice for each other as needed

【What makes us Special】
Freedom & Creativity
Teachers can use our framework of lessons, or use their creativity to develop their own personalized and unique approach to teaching.

Teamwork
Support and be supported, every step of the way.

Professional Growth
Our passion for education extends to our staff as well, with support in learning Japanese, continued training and workshops.

Responsibility
We trust our teachers to be involved and dedicated to promoting our business, taking ownership of their own successes.

Bring Out the Kid in You
We emphasize fun in the classroom!

We are looking forward seeing you soon.
Location
Area
Tokyo
Closest Station(s)
Musashiseki station
Train Line(s)
Seibu Shinjuku line
Conditions
Language to Teach
English

Contract Type
Full

Salary
Starting salary is 250,000Yen
Transportation Fee
Social Insurance
No

Contract Term
1 year
Accommodation
Working Days & Hours
Tuesday to Saturday 40 hours/week
Start Date
A.S.A.P.
Probation Period
3-month probation period
Training
Yes (paid)

Holiday
Sunday, Monday
Paid Holiday
5days in Summer / 8 days in Winter / GW
Class Infomation
Student Age
Toddlers(3-5 years old)
Children / Preteen(6-12 years old)
Teenagers(10-19 years old)
Adults(20- years old)

Job Description
English School for Children
School info
School Type
ESL School

Year Founded
2015
Number of Teachers
Requirements
Educational Background
Graduated Undergraduate School

Experience
More than 1 year/years
Teaching Certificate
Japanese Ability
Beginner

Visa
Spouse of Japanese National
Child of Japanese National & Japanese
Working

Visa Sponsorship
Yes

Driver's License
(valid in Japan)
Not Required

Interview
Interview Method
Interview in Person

Transportation Fee Paid
No

Working Hours
(required indicated in red)
| | 9- | 10- | 11- | 12- | 13- | 14- | 15- | 16- | 17- | 18- | 19- | 20- | 21- |
| --- | --- | --- | --- | --- | --- | --- | --- | --- | --- | --- | --- | --- | --- |
| Mon | | | | | | | | | | | | | |
| Tue | | | | | | | | | | | | | |
| Wed | | | | | | | | | | | | | |
| Thu | | | | | | | | | | | | | |
| Fri | | | | | | | | | | | | | |
| Sat | | | | | | | | | | | | | |
| Sun | | | | | | | | | | | | | |
Map