Job Details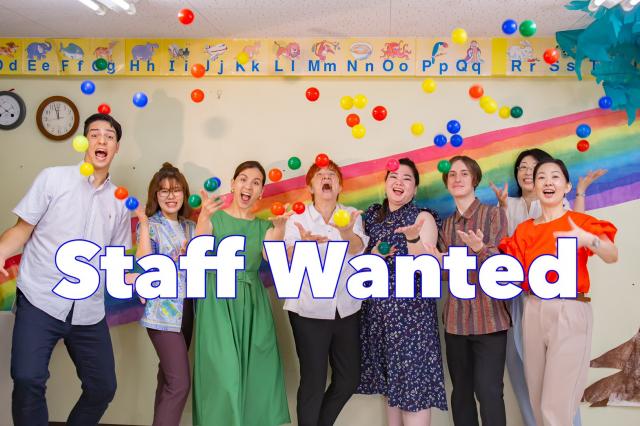 Job No, 2272
We are a small but enthusiastic language school dedicated to raising young and older learners in the spirit of modern times through the medium of English. The focus of education is mainly on experience, discovery and appreciating diversity. Our staff is highly educated and committed to continuous research. Classes are small and our students range from very young learners to adults and run from morning to evening.

Expectations
We expect the applicants to be truly devoted to our goals, sincere and flexible. Native or near-native English speakers with educational background and relevant experience are most welcome.

We also expect the applicants to have a valid working visa and are committed to a long-term employment. Working knowledge of the Japanese language is a plus.

Working conditions
Salary: 200,000 yen~280,000 yen

There are two days off a week, time off for national holidays and ten extra days a year. Social security and transportation allowance provided. Some bonus will be provided.
There is three month training period. Curriculum and teaching materials are provided.
Interviews will be held in person in Tokyo.

Job description
○ Deliver 40~60 minute classes (8 students/class)
○ Prepare for the lessons (Lesson plans will be provided)
○ Prepare and participate in seasonal events

We will be looking forward to hearing from you.
Location
Area
Chiba
Closest Station(s)
Ichikawamama stn.
Train Line(s)
Keisei line
Conditions
Language to Teach
English

Contract Type
Full

Salary
200,000〜280,000 yen/month
Transportation Fee
Paid

Social Insurance
Yes

Contract Term
Accommodation
Working Days & Hours
40 hours/week Part timeOK
Start Date
Probation Period
3-month
Training
Yes (paid)

Holiday
consultation required
Paid Holiday
10days start
Class Infomation
Student Age
Infants(0-2 years old)
Toddlers(3-5 years old)
Children / Preteen(6-12 years old)
Teenagers(10-19 years old)
Adults(20- years old)

Job Description
School info
School Type
ESL School

Year Founded
2012
Number of Teachers
16
Requirements
Educational Background
Graduated Undergraduate School

Experience
More than 1 year/years
Teaching Certificate
Japanese Ability
Not Required

Visa
Student
Working Holiday
Spouse of Japanese National
Child of Japanese National & Japanese
Permanent Resident
Working

Visa Sponsorship
Yes

Driver's License
(valid in Japan)
Not Required

Interview
Interview Method
Interview in Person

Transportation Fee Paid
No

Working Hours
(required indicated in red)
| | 9- | 10- | 11- | 12- | 13- | 14- | 15- | 16- | 17- | 18- | 19- | 20- | 21- |
| --- | --- | --- | --- | --- | --- | --- | --- | --- | --- | --- | --- | --- | --- |
| Mon | | | | | | | | | | | | | |
| Tue | | | | | | | | | | | | | |
| Wed | | | | | | | | | | | | | |
| Thu | | | | | | | | | | | | | |
| Fri | | | | | | | | | | | | | |
| Sat | | | | | | | | | | | | | |
| Sun | | | | | | | | | | | | | |
Map