Job Details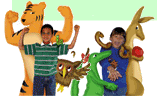 Job No, 270
We specialize in teaching English to Japanese small children with intensive programs and education-first attitude.
We have perfect,very detailed curriculums and lesson plans,
so you don't have to create any of them at all.

Yonago is a small town with population of 150,000 in western part of Japan.We have beautiful beaches and you can swim in summer.People in Yonago are shy but kind .We have a lot of foreign people from western countries here.Some foreigners do love Yonago,a small town and they are willing to live here forever.
Location
Area
Tottori
Closest Station(s)
JR Yonago stn.
Train Line(s)
San-in honsen line
Conditions
Language to Teach
English

Contract Type
Full

Salary
260,000yen/month
Transportation Fee
Paid (Partially Paid up to 500 yen/day yen)

Social Insurance
Yes

Contract Term
3 years(or permanent)
Accommodation
Full-furnished Apartment ,Rent 43,000yen
Working Days & Hours
Monday to Saturday 40hours/week
Start Date
Negotiable
Probation Period
3-month probation period
Training
Holiday
Saturday,Sunday and national holiday
Paid Holiday
Summer 5 days/Winter 5 days/GW 5 days
Class Infomation
Student Age
Infants(0-2 years old)
Toddlers(3-5 years old)
Children / Preteen(6-12 years old)
Teenagers(10-19 years old)

Job Description
Preschool and After School Programs
School info
School Type
ESL School

Year Founded
2006
Number of Teachers
5
Requirements
Educational Background
Graduated Undergraduate School

Experience
Teaching Certificate
Not Required

Japanese Ability
Not Required

Visa
Spouse of Japanese National
Child of Japanese National & Japanese
Permanent Resident
Working

Visa Sponsorship
Yes

Driver's License
(valid in Japan)
Not Required

Interview
Interview Method
Skype Interview

Transportation Fee Paid
No

Working Hours
(required indicated in red)
| | 9- | 10- | 11- | 12- | 13- | 14- | 15- | 16- | 17- | 18- | 19- | 20- | 21- |
| --- | --- | --- | --- | --- | --- | --- | --- | --- | --- | --- | --- | --- | --- |
| Mon | | | | | | | | | | | | | |
| Tue | | | | | | | | | | | | | |
| Wed | | | | | | | | | | | | | |
| Thu | | | | | | | | | | | | | |
| Fri | | | | | | | | | | | | | |
| Sat | | | | | | | | | | | | | |
| Sun | | | | | | | | | | | | | |
Map