Job Details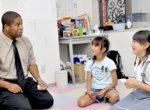 Job No, 425
Our Language Center is a locally-run eikaiwa dedicated to promoting English within Saga while fostering a sense of community between staff and students. Saga is about a 40 minute train ride from Fukuoka, which is situated in the country, surrounded by mountains to the north where you can enjoy skiing in the winter and Ariake sea to the south. You can travel anywhere by bike on this flat land. The climate is mild and the food is delicious!!

If you are enthusiastic, motivated and friendly this job is for you! We are currently looking to recruit a full-time English teacher who might want to make a long term commitment and progress in their teaching career. You will be responsible for teaching mainly adult classes as well as children's classes however as the school grows, the job description might change. We offer the possibility of promotion every year when you re-new your contract according to your job performance.

We have our own curriculum and materials which you will learn about during training. Also you will have the opportunity to design your own classes and bring your individuality into your lessons. As we are a small school and work as a team, you will have the chance to share your ideas and creativity on a daily bases.

Our school is only three years old but has good reputation within Saga as a result of a number of social events, volunteer activities, good curriculum and fun lessons!! We are constantly increasing the number of students so we are hoping to have a new teacher who is willing to work as a part of our community here. You will find the people here are kind and very nice!
Location
Area
Saga
Closest Station(s)
Saga stn
Train Line(s)
Nagasaki line
Conditions
Language to Teach
English

Contract Type
Full

Salary
250,000 yen/month, with extra payment (180,000 yen/first month salary during training)
Transportation Fee
Paid

Social Insurance
No

Contract Term
1 year, renewable
Accommodation
Company will provide an apartment
Working Days & Hours
Tuesday to Saturday 40 hours/week, average no. of teaching hrs approx. 23/week
Start Date
Negotiable
Probation Period
3-month probation period
Training
Yes (paid)

Holiday
Sunday, Monday, National holidays,
Paid Holiday
approx.10 days in winter, approx.5 days in summer
Class Infomation
Student Age
Infants(0-2 years old)
Toddlers(3-5 years old)
Children / Preteen(6-12 years old)
Teenagers(10-19 years old)
Adults(20- years old)

Job Description
Students care: class preparation, weekly staff meeting, participating in events(extra hrs are compensated) class size 1-5/classSchool promotion; campaign and recruiting new students(extra payment is provided)Kindergarten lessons; (hrs are compensated)
School info
School Type
ESL School

Year Founded
2010
Number of Teachers
5
Requirements
Educational Background
Graduated Undergraduate School

Experience
More than 1 year/years
Teaching Certificate
TESOL

Japanese Ability
Not Required

Visa
Spouse of Japanese National
Permanent Resident
Working
Other

Visa Sponsorship
Yes

Driver's License
(valid in Japan)
Not Required

Interview
Interview Method
Phone Interview

Transportation Fee Paid
No

Working Hours
(required indicated in red)
| | 9- | 10- | 11- | 12- | 13- | 14- | 15- | 16- | 17- | 18- | 19- | 20- | 21- |
| --- | --- | --- | --- | --- | --- | --- | --- | --- | --- | --- | --- | --- | --- |
| Mon | | | | | | | | | | | | | |
| Tue | | | | | | | | | | | | | |
| Wed | | | | | | | | | | | | | |
| Thu | | | | | | | | | | | | | |
| Fri | | | | | | | | | | | | | |
| Sat | | | | | | | | | | | | | |
| Sun | | | | | | | | | | | | | |
Map