Job Details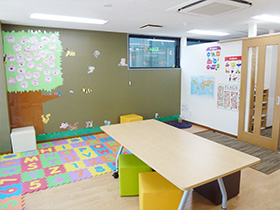 Job No, 990
FULL-TIME ENGLISH LANGUAGE TEACHER in Tokyo (Hiro, Shibuya Ward)

Key Responsibilities : are teaching English to kids aged 6 to 17, communicating effectively in English; establishing and maintaining relationships with children, their parents, and school staff; following curriculum in place; developing materials; maintaining cooperative working attitude.

Skills and Qualifications : must include a fluent ability of English; at least 2 years teaching experience (bonus if it's with younger children); a Bachelor's Degree or higher in Education or similar field; ability to multi-task and coordinate; ability to play a musical instrument (a plus).

Position Details are the following:

***Applicants must have a working or marital visa (no visa sponsorship) and reside in Tokyo (or plans to do so).*** Applicants should send PDF versions of a cover letter and resume (photos are not requested). Only electronic copies of the documents will be accepted.

Our school is a subsidiary of the Research Institute of English Language Education (RIELE). RIELE aims to promote English language education in Japan that focuses on meeting the English educational demands of the 21st century. We strive to rise to new challenges presented by today's English students and to foster dialogue among scholars, teachers, and other professionals of English language studies in Japan.
Location
Area
Tokyo
Closest Station(s)
Hiroo station
Train Line(s)
Hibiya Line
Conditions
Language to Teach
English

Contract Type
Full

Salary
Negotiable
Transportation Fee
Paid

Social Insurance
No

Contract Term
Accommodation
Working Days & Hours
Start Date
Negotiable
Probation Period
Training
Holiday
Paid Holiday
Class Infomation
Student Age
Children / Preteen(6-12 years old)
Teenagers(10-19 years old)

Job Description
FULL-TIME ENGLISH LANGUAGE TEACHER in Tokyo (Hiro, Shibuya Ward)
School info
School Type
ESL School

Year Founded
Number of Teachers
Requirements
Educational Background
Graduated Undergraduate School

Experience
More than 2 year/years
Teaching Certificate
Not Required

Japanese Ability
Not Required

Visa
Spouse of Japanese National
Child of Japanese National & Japanese
Permanent Resident
Working

Visa Sponsorship
No

Driver's License
(valid in Japan)
Not Required

Interview
Interview Method
Interview in Person

Transportation Fee Paid
No

Working Hours
(required indicated in red)
| | 9- | 10- | 11- | 12- | 13- | 14- | 15- | 16- | 17- | 18- | 19- | 20- | 21- |
| --- | --- | --- | --- | --- | --- | --- | --- | --- | --- | --- | --- | --- | --- |
| Mon | | | | | | | | | | | | | |
| Tue | | | | | | | | | | | | | |
| Wed | | | | | | | | | | | | | |
| Thu | | | | | | | | | | | | | |
| Fri | | | | | | | | | | | | | |
| Sat | | | | | | | | | | | | | |
| Sun | | | | | | | | | | | | | |
Map