>

Monthly/Weekly Apartments

Locations
Over 5,000 rooms, 50 locations in Tokyo, Yokohama, Kawasaki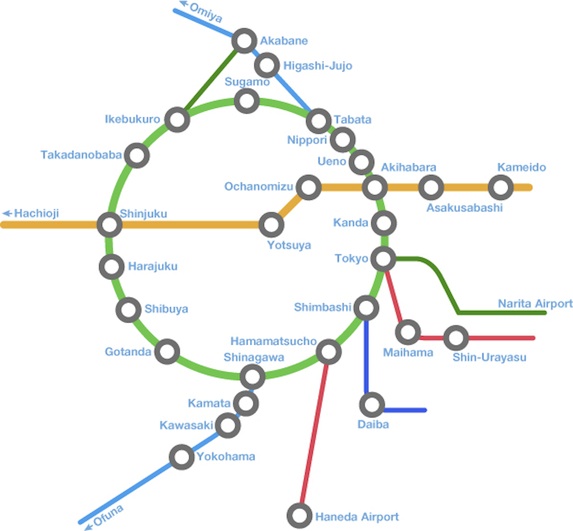 What is MONTHLY/WEEKLY apartments
A budget, furnished apartment, which origillay started as temporary housing for stays of 7 nights or more.But now, weekly apartments can be booked for perionds varying from 1 night to a long term stay. Ideal for single trvelars, couples, families and business people.
Facilities and Amenities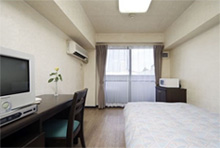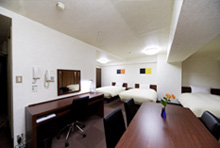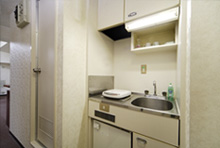 Each room is equipped with a television, telephone, kitchenette for simple cooking, refrigerator, air conditioner, private bath & toilet, bed & bedding and other amenities such as video on demand to make your stay comfortable.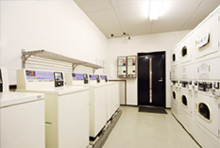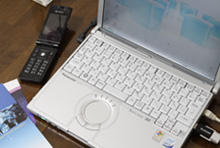 Laundromat and vending machines are conveniently located in each building. Internet is available in every room. Just bring your PC. You can enjoy it for free. Kitchenware and table ware, Iron set, Desk lamp are available for rental.
Sample Floor Plans (Size and Layout vary)

Room Rates
1 ) SINGLE BEDROOM
Area
Station
Train line
Rate per night
7 nights
30 nights
1-6 nights
7-29 nights
30 nights -
Shinjuku
Takadanobaba
Yamanote
-
6,200
5,500
43,400
165,000
Iidabashi
Sobu/Tozai/Oedo/Yurakucho
8,200
7,100
6,300
49,700
189,000
Ikebukuro
Higashi Jujo
JR Keihin Tohoku
7,200
4,700
4,150
32,900
124,500
Tokiwadai
Tobu Tojo
7,200
4,400
3,900
30,800
117,000
Ekoda
Seibu Ikebukuro Oedo
7,200
4,800
4,250
33,600
127,500
Kotakemukaihara
Yurakucho
7,200
4,700
4,150
32,900
124,500
Sugamo
Yamonote/Mita
7,200
4,400
3,900
30,800
117,000
Otsuka
Yamanote
9,000
7,200
6,400
50,400
192,000
Ikebukuro
Yamanote/Saikyo/ Yurakucho
-
5,100
4,500
35,700
135,000
Shinagawa / Gotanda
Nakanobu
Oimachi/Asakusa
7,200
5,000
4,400
35,000
132,000
Kita Shinagawa
Keihin kyuko
7,800
6,200
5,500
43,400
165,000
Gotanda
Yamanote/Asakusa
9,000
7,700
6,700
53,900
201,000
Akasaka
Akasaka
Chiyoda
8,200
7,000
6,200
49,000
186,000
Roppongi
Hiroo
Hibiya
7,200
6,100
5,400
42,700
162,000
Nihonbashi
Ningyocho
Hibiya
8,200
6,800
6,100
47,600
183,000
Iwamotocho
Hibiya
9,400
7,200
6,300
50,400
189,000
Ueno / Asakusa
Kuramae
Oedo
7,500
5,200
4,600
36,400
138,000
Inaricho
Ginza
7,200
5,400
4,800
37,800
144,000
Nippori
Yamanote
8,700
5,800
5,200
40,600
156,000
Koto
Kameido
Sobu
7,200
5,000
4,400
35,000
132,000
Kiyosumishirakawa
Hanzomon
7,200
5,200
4,600
36,400
138,000
Chiba
Shinurayasu
Keiyo
7,200
4,700
4,150
32,900
124,500
Kawasaki
Kawasaki
Keihin/Tokaido
7,200
4,900
4,350
34,300
130,500
Shinmaruko
Tokyutoyoko
7,200
5,400
4,800
37,800
144,000
Machida
Machida
Yokohama
7,200
5,300
4,700
37,100
141,000
Yokohama
Sakuragicho
Keihin
7,200
4,300
3,800
30,100
114,000
Isezakichojamachi
Shieichikatetsu
7,200
5,400
4,800
37,800
144,000
Osaka
Tanimachi 4chome
Chikatestu Tanimachi
7,000
5,600
3,700
39,200
111,000
Shinsaibashi
Chikatetsu Midosuji
6,500
6,200
5,500
-
165,000
2) TWIN OR DOUBLE BEDROOM
Area
Station
Train line
Rate per night
7 nights
30 nights
1-6 nights
7-29 nights
30 nights -
Shinjuku
Takadanobaba
Yamanote
-
7,400
6,500
51,800
196,500
Iidabashi
Sobu/Tozai/Oedo/Yurakucho
12,000
8,700
7,750
60,900
232,500
Ikebukuro
Tokiwadai
Tobu Tojo
9,900
6,400
5,650
44,800
169,500
Ekoda
Seibu Ikebukuro Oedo
9,900
6,200
5,500
43,400
165,000
Sugamo
Yamonote/Mita
9,900
7,300
6,500
51,100
195,000
Ikebukuro
Yamanote/Saikyo/Yurakucho
-
7,600
6,750
53,200
202,500
Shinagawa / Gotanda
Nakanobu
Oimachi/Asakusa
9,900
6,200
5,500
43,400
165,000
Akasaka
Akasaka
Chiyoda
13,200
10,200
9,100
71,400
273,000
Roppongi
Hiroo
Hibiya
9,900
8,600
7,650
60,200
229,500
Kanda
Iwamotocho
Hibiya
15,000
9,900
9,000
69,300
270,000
Ueno
Inaricho
Ginza
12,000
9,450
8,400
66,150
252,000
Koto
Kameido
Sobu
9,900
6,300
5,600
44,100
168,000
Kiyosumishirakawa
Hanzomon
9,900
6,900
6,150
48,300
184,500
Chiba
Shinurayasu
Keiyo
9,900
5,400
4,800
37,800
144,000
Kawasaki
Kawasaki
Keihin/Tokaido
9,900
6,300
5,600
44,100
168,000
Shinmaruko
Tokyutoyoko
9,900
6,200
5,500
43,400
165,000
Yokohama
Sakuragicho
Keihin
12,800
9,800
8,750
68,600
262,500
Isezakichojamachi
Shieichikatetsu
14,800
9,500
8,450
66,500
253,500
Osaka
Tanimachi 4chome
Chikatestu Tanimachi
9,000
6,400
5,500
44,800
165,000
Shinsaibashi
Chikatetsu Midosuji
10,000
8,800
7,700
-
-
3) THREE OR MORE
Area
Number of guests
Station
Train line
Rate per night
7 nights
30 nights
1-6 nights
7-29 nights
30 nights
Shinjuku
3
Takadanobaba
Yamanote
-
8,200
7,350
57,400
220,500
Ikebukuro
3
Tokiwadai
Tobu Tojo
12,800
7,300
6,500
51,100
195,000
Akasaka
3
Akasaka
Chiyoda
16,500
13,200
11,600
92,400
348,000
4
Akasaka
Chiyoda
22,000
17,600
15,400
123,200
462,000
Asakusa
3
Kuramae
Oedo
13,500
9,700
8,700
67,900
261,000
Ueno
3
Inaricho
Ginza
15,000
12,000
10,500
84,000
315,000
Fukagawa
3
Kiyosumishirakawa
Hanzomon
12,800
9,500
8,450
66,500
253,500
Kawasaki
4
Shinmaruko
Tokyu toyoko
14,800
10,000
8,900
70,000
267,000
Osaka
3
Tanimachi 4chome
Chikatestu Tanimachi
15,000
8,700
7,800
60,900
234,000
4
Tanimachi 4chome
Chikatestu Tanimachi
18,000
9,700
8,600
67,900
258,000
5
Tanimachi 4chome
Chikatestu Tanimachi
21,000
9,800
8,700
68,600
261,000
6
Tanimachi 4chome
Chikatestu Tanimachi
24,000
9,900
8,800
69,300
264,000
7
Tanimachi 4chome
Chikatestu Tanimachi
27,000
10,100
9,000
70,700
270,000
3
Shinsaibashi
Chikatestu Midosuji
12,500
11,000
9,500
-
-