>

Tour Reservation in Japan

Tokyo Full day Tour
Tour Fare
<Lunch Included>
¥9,700 <Children 6-11 Years> ¥6,600
<Without Lunch>
¥7,900 <Children 6-11 Years> ¥4,800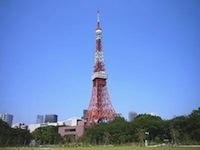 1. TOKYO TOWER
Enjoy a panorama of Tokyo from the main observation platform.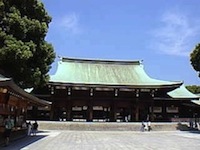 2. MEIJI SHIINE
Take in a fine example of Japanese shrine architecture,
nestled in a peaceful, picturesque area.
3. ASAKUSA GUEST HOUSE (Drive by)
A magnificent Western-style palace built in the baroque architectural style.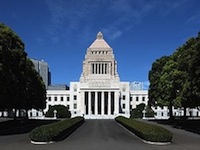 4. NATIONAL DIET BUILDING (Drive by)
Drive by the imposing Japanese Capitol (the House of Parliament) dominated by a massive central tower.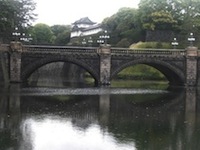 5. IMPERIAL PALACE EAST GARDEN
Enjoy a pleasant walk through the East Garden of the Imperial Palace, a place of historical interest and scenic beauty. (Mon., Fri. & when East Garden is closed, visit IMPERIAL PALACE PLAZA, DOUBLE BRIDGE instead of East Garden. Visit the inner moat,15-foot thick walls and pine trees surrounding the 250-acre fortress, home of the Emperor and Empress.)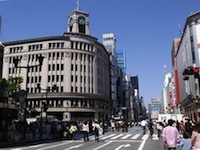 6. GINZA SHOPPING DISTRICT (Drive Through)
Drive through world famous Ginza shopping district.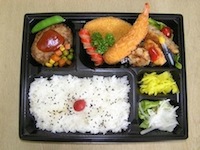 7. JAPANESE STYLE LUNCH
Please enjoy the Japanese style lunch. Vegetarian menu is available on request.
*The menu might be changed due to operational reasons.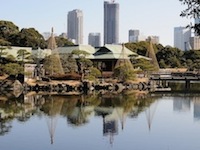 8. HAMA-RIKYU GARDEN
This garden is a typical daimyo (Japanese feudal lord) garden in the Edo period with a tidal pond.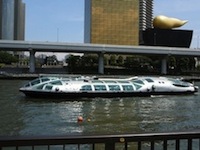 9. SUMIDA RIVER CRUISE
Enjoy a boat ride from a Port of Tokyo, Hinode Pier to Asakusa and see a harmonious blend of old and new Tokyo.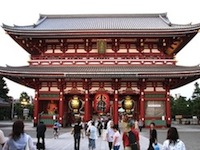 10. ASAKUSA KANNON TEMPLE & NAKAMISE SHOPPING STREET
Famous cultural landmark in Tokyo.
Walk down an active shopping street Nakamise leading to one of the finest Buddhist temples in Japan.
*Model Course - The actual tour course may be changed.
Mr. Fuji & Hakone Tour
Tour Fare
<By Motor coach throughout>
WITHOUT LUNCH ¥11,000 (CHILDREN 6-11 years ¥5,500)
LUNCH INCLUDED ¥13,000 (CHILDREN 6-11 years ¥6,500)

<Return by Bullet Train>
WITHOUT LUNCH ¥14,000 (CHILDREN 6-11 years ¥7,000)
LUNCH INCLUDED ¥16,000 (CHILDREN 6-11 years ¥8,000)

1. TOMEI EXPRESSWAY FUJI SKY LINE-5TH STATION
Enjoy scenery of rural Japan driving along to Mt. Fuji and a panoramic view from the 5th station.
(Approx. 8,000 ft. altitude)
2. LUNCH AT HAKONE LAKE HOTEL
A western-style lunch (Grilled Chicken) at Hakone Lake Hotel.
Vegetarian Menu is available on request.
*The location of the restaurant and the menu might be changed due to operational reasons.
3. HAKONE SKY GONDORA
Enjoy a double wired gondola with 360 degree panorama for a breath-taking view of the volcanic Hakone Mountains.
4. OWAKUDANI VALLEY
Ancient Crater where you can smell sulfurous fume and see clouds of steam rise from crevasses.
Have approx. 20-minutes visit. Why not try black colored shell eggs boiled in sulfurous hot spring water?
5. PIRATE BOAT CRUISE ON LAKE ASHI
Cruise across peaceful Lake Ashi and enjoy the picturesque and serene natural beauty of the crater lake.
6. RETURN TO TOKYO
*Return by motorcoach: Return service is available to the hotel where you were picked up.
*Return by Bullet Train from Odawara to Tokyo: Tour disbands at Tokyo Station. Tour guide will inform you how to go back to your hotel before boarding the train. Non-reserved tourist class seats are used on Bullet Train (Shinkansen)
*Model Course - The actual tour course may be changed.

Other Tours
Tokyo morning / afternoon tour
Discover Asakusa Walking Tour
Nikko World Heritage Tour
Tours to Kyoto, Osaka, Nagoya etc..